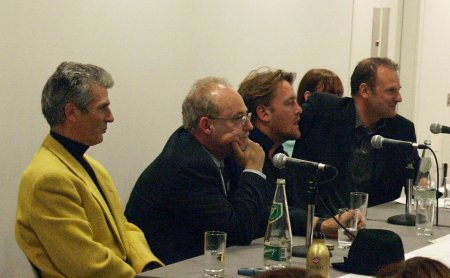 Panel at MDMA launch: (L-R) Jon Savage, CP Lee, Guy Garvey, Mark Radcliffe, Jan Hargreaves. (Out of shot) Alison Surtees
Manchester District Music Archive
Dec 2003
Manchester District Music Archive became a constituted group led by Alison Surtees, Mat Norman, Abigail Ward, Dave Rofe and CP Lee.
Manchester District Music Archive official launch
Sep 2004
September 2004 saw the official launch of MDMArchive at Urbis as part of the 2004 In The City convention. The seminar was attended by over 300 people and was led by a panel including Mark Radcliffe, Jon Savage and Guy Garvey. The launch was covered by Radio One, Radio Four, The Independent, NME, MEN and GMR.
Funded by: Manchester City Council, In The City, Creative Industry in Salford, Urbis



MDMarchive seminar at the Town Hall
Nov 2004
The MDMarchive board delivered a seminar in November at Manchester Town Hall for local councillors, MPs and archivists. This formed part of the archive's early campaign for a physical space dedicated to Greater Manchester's music history.
Funded by Manchester City Council, supported by Museum of Science and Industry

John Cooper Clarke event at the King's Arms
Dec 2004
MDMarchive hosted a special performance of the critically acclaimed play 36 Hours: The John Cooper Clarke Story, which took place at the King's Arms, Salford.
Supported by Studio Salford


The Nosebleeds – lost punk film premiere at the King's Arms
Mar 2005
MDMarchive showed John Crumpton's lost 1977 punk documentary to a packed audience at The King's Arms, Salford. The event was covered by Metro, City Life, MEN and the Regional Film and Video Site. The night raised £300 for the Disasters Emergency Committee and was attended by 120 people.
MDMArchive curates Manchester punk exhibition, Urbis
May 2005
The Manchester room of the Urbis punk exhibition, 'Sex, Seditionaries and the Sex Pistols' opened to widespread acclaim. MDMArchive sourced the artefacts and footage, including Joy Division, Buzzcocks and Slaughter and the Dogs memorabilia.
Supported by Urbis

Blues and gospel train film night at Chorlton Irish Club
Feb 2006
On Februray 17th 2006, MDMArchive put on their second film night, this time at Chorlton Irish Club. Victor Brox kicked off the evening with a classic blues set, which was followed by the film The Blues and Gospel Train, first broadcast in 1964. The film follows Muddy Waters, Sister Rosetta Tharpe, Sonny Terry and Brownie McGhee's visit to Manchester. The blues stars performed on the platform of Chorlton Train Station. The producer of the programme, Johnny Hamp, spoke at the event, which raised £300 for MDMArchive.
Hacienda event at Urbis
Nov 2006
MDMarchive hosted an informal panel discussion chaired by archive co-founder Alison Surtees. This lively discussion looked at the world's most famous club and discussed memories, myths and the different phases of the club's life.
Supported by Urbis

MDMArchive new online archive and website launched
Nov 2006
MDMarchive launched the world's first user-led online community music ephemera archive. The project was developed by MDMArchive co-founder Abigail Ward and web designer Ashley Kennerley (Go Bang Design). The launch was covered by the BBC website, Manchester Evening News, Salford Advertiser, Metro, XFM and BBC Radio Manchester.

Funded by Manchester City Council & Manchester Digital Development Agency

MDMArchive wins best not-for-profit award at annual Big Chip awards
May 2007
MDMarchive scooped their first award for their newly launched second website and online archive. What really impressed the judges was the organisation's intention of using the site to 'give everyone the opportunity to take ownership of the project'. One of the judges described it as being 'perfectly Web 2.0' in its thinking, and overall the judges loved the way it 'let the objects speak for themselves, as well as the way the site conveyed the enthusiasm of its creators for the subject.' 'It does everything it needed to do and no more, and as a result leaves plenty of room for a community to spring up around it'. The MDMArchive website was developed by Abigail Ward and Ashley Kennerley of Go Bang Design.
Electrospective: Manchester Pre-rave '82 - '88 event at Islington Mill
Aug 2008
Manchester District Music Archive teamed up with DJ Greg Wilson to bring a marathon celebration of Manchester's 1980s Electro-Funk and B-Boy scene to Islington Mill, Salford. The event explored the impact of this seminal underground movement through films, talks and music. The event was managed by MDMArchive co-founder Matthew Norman.
Funded by: Creative Industry in Salford
Supported by Greg Wilson
'1 Top Class Manager' – Rob Gretton's diaries published
Oct 2008
October 2008 saw the release of '1 Top Class Manager' – The Notebooks of Joy Division's Manager 1978-1980, published by Lesley Gilbert, Rob's former partner, in association with Manchester District Music Archive. The book was edited by Abigail Ward.
"...the idealism and generosity of spirit encoded within the endless minutiae of to-do lists, PA companies, phone numbers and draft letters to van-hire companies render this lovingly realised tribute an essential purchase, not just for fans of the band, but for anyone with big dreams involving music." The Independent
'1 Top Class Manager' book launch
Oct 2008
The '1 Top Class Manager' book launch, hosted by MDMArchive, was held at One Central Street and featured a talk by cultural historian, writer and broadcaster Jon Savage and MDMArchive co-founder Abigail Ward.
Queer Noise LGBT+ music in Manchester event at the Deaf Institute
Jan 2009
MDMarchive hosted a one-off event to celebrate and explore the history of Greater Manchester's LGBTQ music culture at The Deaf Institute, Manchester, curated by Abigail Ward.
The night was compered by cultural commentator Jon Savage and brought together some of the leading lights from the scene for a night of talks, film, music and of course, dancing.
Panel:
Liz Naylor (City Fun)
Kath McDermott (Flesh/Homo Electric)
Gerry Potter (Performance Poet)
Jayne Compton (Club Brenda)
Chair: Jon Savage
A Q&A session hosted by Jon was followed by an exclusive showing of 'Flesh at The Hacienda' - a 30-minute 1994 documentary on the legendary club.
The Manchester Lesbian and Gay Choir performed, along with all-girl punk three-piece Hooker.
The event culminated in a club night featuring DJs:
Dave Kendrick (Paradise Factory/Flesh)
Jayne Compton (Club Brenda)
Philippa Jarman (Homo Electric/Piccadilly Records)
It was attended by over 400 people.
Funded by Forever Manchester


Queer Noise online exhibition launched
Feb 2011
February 2011 saw MDMArchive launch 'Queer Noise' – a groundbreaking, permanent online exhibition that explores LGBT music and club culture in Greater Manchester. The exhibition contains scores of artefacts from 1962 to the present day, including oral histories, videos, streamed mp3s, press articles, posters, flyers and photos, all displayed in a gallery format and is curated by Abigail Ward. Introduction and exclusive essay by Jon Savage.
Funded by Forever Manchester

MDMArchive fanzines panel event
Mar 2012
Manchester Histories Festival: Fanzines event at the Town Hall March 2012
Manchester District Music Archive (in association with Manchester Histories Festival) hosted a panel discussing the history and legacy of Manchester's alternative music publications. The discussion was chaired by Dave Haslam.
Panel:
Mike Don (Mole Express)
Bob Dickinson (City Fun)
Liz Naylor (City Fun)
Dan Russell (Things Happen)
Moss Side Stories online exhibition launched
Feb 2012
2012 saw MDMArchive launch Moss Side Stories – the second permanent online exhibition, this time that exploring black music and club culture in Moss Side and Hulme. The exhibition contains scores of artefacts from 1950 to the present day, including oral histories, videos, streamed mp3s, press articles, posters, flyers and photos, curated by Abigail Ward.
Funded By Commonword/Arts Council England

Roger Eagle book launch at the Twisted Wheel
Jul 2012
MDMarchive hosted the launch for Bill Sykes' book 'Sit Down! Listen To This! The Roger Eagle Story' at The Twisted Wheel, just weeks before its closure. Guest speakers included: CP Lee, Elliot Rashman and Bill Sykes. The event was managed by MDMArchive co-founders Dave Rofe and CP Lee.
City Fun online exhibition launched
Dec 2012
City Fun - The Hidden History of Manchester's Post-Punk Fanzines went live in December 2012. The fanzine was published between 1978 and 1984 and is a remarkable eye-witness account of one of the most fertile periods in Manchester's music history. The exhibition was co-curated by Abigail Ward and Dave Haslam.
Funded by Manchester Histories Festival/Arts Council England

MDMArchive receives £42k investment from Heritage Lottery Fund
Aug 2013
HLF-funded programme:


Defining Me – Musical adventures in Manchester exhibition launched at the Lowry
Sep 2013
In 2013, following investment from Heritage Lottery Fund, MDMArchive held the 'Defining Me: Musical Adventures in Manchester' exhibition at The Lowry, a 5-month-long show co-curated by members of MDMArchive's online community. The exhibition attracted 32,000 visitors. From the Hallé Orchestra's first performance in 1858, to the diverse musical character of the present day, the exhibition celebrated Greater Manchester's musical heritage as told by a wide variety of participants from the archive's online community. Through key artefacts such as photography, posters, ticket stubs and video footage, the exhibition explored the emotional, life-changing and inspirational experiences we all have with music; charting the cultural significance of Manchester within music history told by the people that know.
Play/Record event at the Lowry
Oct 2013
Play/Record was a Sunday afternoon session of live DJs, music, personal stories and talks to celebrate MDMArchive's music history-led exhibition at The Lowry. It featured a scanning session and a special presentation from exhibition designers, PIN. The afternoon featured a live set from DJ and author John McCready and an MDMArchive show-and-tell where music fans brought in music and nightclub ephemera and stories.
Louder than words festival panel: Bigmouth strikes again - Music writing in the digital age at the Palace Hotel
Nov 2013
Manchester District Music Archive & Louder Than Words Festival hosted a Sunday breakfast time panel discussion on music writing in the internet age.
Panel:
Tony Fletcher (A Light That Never Goes Out: The Enduring Saga of The Smiths)
Phill Young (Tru Luv)
Shell Zenner (Amazing Radio, Louder Than War)
Abigail Ward (Manchester District Music Archive)
John McCready (NME, The Face, ID, Mojo)
Charlotte Davies (Hooting And Howling')
Chair: Luke Bainbridge (Observer Music Monthly, The Guardian)
Noise Annoys – Kevin Cummins night & punk panel event at Kraak
Nov 2013
MDMarchive hosted 'Noise Annoys' - a punk film night & panel discussion hosted by photographer Kevin Cummins, curated by Alison Surtees.
Panel:
Kevin Cummins
Denise Shaw
Dawn Bradbury
Steve Shy
Film: Brass Tacks
Band: Kill Pretty (feat ex-members of The Fall & The Hamsters and current members of Blue Orchids)
Photographer Kevin Cummins documented the punk explosion with finesse, picking out from the crowds two young fans who personified the feeling and passion: Denise Shaw and Dawn Bradbury. Denise would go on to star in BBC punk documentary 'Brass Tacks'. The spirit of the time was also captured in print through fanzines, and none more influential than 'Shy Talk' - a labour of love for Steve Shy, whose efforts helped to shape Manchester's much-celebrated DIY ethic.
'Noise Annoys – Early Punk in Manchester' brought all these characters together giving insight into the madness and intensity of the era, whilst presenting some of Kevin's most evocative punk and post-punk photographs.
Richard Boon in conversation with Dave Haslam at Gorilla
Feb 2014
The Buzzcocks manager who set-up the UK's first punk/post-punk independent record label - New Hormones - talked to Dave Haslam about early Sex Pistols gigs; working with Malcolm McLaren, Buzzcocks, and Linder Sterling; and plotting and planning with Mark E Smith, Jon Savage and Morrissey.
Barney Doodlebug in conversation at the Lowry
Feb 2014
MDMarchive presented an intimate evening of talk, image, music and conversation with Michael Anthony Barnes-Wynters AKA Barney Doodlebug. As an artist, designer, curator, remixer and more, Michael delved into his art, design and promoted nights , providing a special treat for fans of Sankey's, BuggedOut!, Electric Chair and more.
Musical adventures in Manchester – community concert at Band on the wall feat: Graham Massey
Feb 2014
Bands: The Prospectors feat: Graham Massey
Nice Touch, Bernie Shaw, Cool Hand Uke, Jo Bangles, Ladies In Red, Banjojo
Compere: Longfella (Tony Walsh)
DJs: Vicky Richardson (ALL FM)
The Prospectors - a band of disabled musicians from Stockport - were joined by Manchester rave pioneer Graham Massey (808 State/Massonix/Toolshed) for a set of tracks that have inspired Graham's life in music. The collective covered A Guy Called Gerald, John Coltrane, Hawkwind and more, making this an ambitious community showcase with a difference. This event was supported by: Stockport Cerebral Palsy Society, Drake Music and Manchester College.
Barry Adamson in conversation with Dave Haslam at the Town Hall as part of Manchester Histories Festival
Mar 2014
Manchester District Music Archive (and Manchester Histories Festival) brought legendary musician, composer and Nick Cave and the Bad Seeds bass player Barry Adamson back to his home city for an onstage interview with writer, broadcaster and DJ Dave Haslam. Barry spoke about his history bands like Magazine and Visage, and what is was like growing up as a person of dual heritage in Moss Side during the 60s and 70s. Supported by MHF.

This was the final event in the HLF-funded programme


MDMArchive wins best not-for-profit award at annual Big Chip awards
Jul 2014
The Big Chips are the biggest digital awards outside London and the longest running in the UK. They are run by and for the industry, not for profit - by trade association, Manchester Digital. The judges 'simply loved' the redesigned MDMArchive website. They described it 'as exactly what the internet was made for, a labour of love that couldn't exist in any other medium'.
Louder than Words: Manchester lyrics panel
Nov 2014
'Hear my voice in your head and think of me kindly' was a panel event exploring the art of song lyricism, Manchester-style. The guest lyricists were:
Jaheda Choudhury-Potter (Ajah UK)
Jonathan Higgs from (Everything Everthing)
Guy Garvey of (Elbow)
It was a fascinating discussion revealing contrasting processes, backgrounds and styles. The event was chaired and organised by Abigail Ward.
MDMArchive present Queer Noise at first national LGBT festival at Central Library
Feb 2015
Queer Noise was a presentation by Abigail Ward exploring how LGBT music-making and club culture in Manchester helped to change attitudes to sexuality, not just in the UK, but on the global stage.
MDMArchive presentation at connecting communities
Mar 2015
Storytelling and the Digital Archive Conference at the University of Leeds.
Co-founders Alison Surtees and Abigail Ward discussed the rise of MDMArchive; the difficulties encountered; and how these challenges, such as who 'owns' heritage and who 'decides' what is shown, were overcome through user-generated content. Their talk was called Multiple Histories - The Democratisation of Manchester's Music Heritage.
MDMArchive becomes a registered charity
Nov 2015
Thanks to continued support from the MDMArchive board & volunteers, the organisation became a registered charity in November 2015.
Registered Charity Number 1164179.
Archiving women's performance practice – MDMArchive presentation at home
Jan 2016
Co-founder Abigail Ward and trustee Sarah Feinstein spoke at this event about how this relates to women's performance through Manchester District Music Archive. Drawing from select artefact in the user-generated collection, Abigail showcased women's agency in the history of music, politics and protest in Greater Manchester. Sarah discussed how a previous online exhibition curated by Abigail led her to a conversation with ground-breaking feminist artist Linder Sterling.
Brix Smith – Start book launch
May 2017
Ex-The Fall guitarist Brix Smith Start in conversation with Abigail Ward at The Ruby Lounge.
Electric 50 concert
Bob Dylan at the Free Trade Hall 50 Year Judas Redux
A fundraiser for Manchester District Music Archive
May 2017
2016 marked the 50th anniversary of Bob Dylan's incendiary 'Judas' gig at Manchester Free Trade Hall - a gig that has been hailed as one of the twenty most important moments in rock history. Manchester District Music Archive celebrated this outstanding event with a fundraising concert of its own.
The evening saw Dylan's set list from that night performed by a collection of Manchester's finest musicians, with each group or performer playing one song from the original 1966 concert.
Raised £2,400 for MDMArchive
Queer Noise presentation
Jun 2017
Abigail Ward gave a one-hour presentation of artefacts from her Queer Noise exhibition as part of the A Queer Revue! night at Band on the Wall.
Supported by Manchester Histories Festival

Activist / Archivist
Jun 2016
An event exploring music, politics and community archiving in Greater Manchester held at People's History Museum led by MDMArchive's Researchers in Residence. Part of Manchester Histories Festival
Scanning session
Gig by A Quiet Loner – the museum's songwriter in residence
Show & Tell
Panel:
Jayne Compton (Club Brenda/Switchflicker)
Heather Roberts (Royal Northern College of Music)
Bob Dickinson (City Fun fanzine/BBC/Vocal Harum)
Claud Cunningham (Black Angel)
Susan O'Shea (Ladyfest/MMU)
Andy Martin (Star and Garter)
Funded by the University of Manchester's Researchers In Residence programme

Discovering Collections, Discovering Communities conference
Oct 2016
MDMArchive delivered the opening workshop and panel at this year's DCDC conference, held across People's History Museum and The Lowry. Organised by The National Archives.

Panel:
Abigail Ward (Co-founder)
Alison Surtees (Co-founder)
Matthew Norman (Co-founder)
Chair: Dave Carter
MDMArchive awarded Heritage Lottery investment
Apr 2017
Manchester District Music Archive received investment from Heritage Lottery Fund (HLF) for a groundbreaking digital and physical music heritage project in Manchester. Made possible by money raised by National Lottery players,
Rebel Music: The Sound of Politics and Protest in Manchester
explores the intertwined histories of music and political activism across the ten boroughs of the city. The project will focus in particular on the achievements of two under-represented groups: women and the LGBT+ community.
Name Change: Manchester Digital Music Archive
Jun 2017
Manchester District Music Archive changed its name to Manchester Digital Music Archive.
It's Alright: A Celebration of Manchester's Rave Heritage 1985-1995
Jun 2017
A community mapping event with with curated spaces dedicated to celebrating different aspects of the rave scene. In partnership with Manchester Metropolitan University, this event documented memories of the places, the music and the moments that meant the most to the rave community in Manchester.
DJs:
Hewan Clarke (Hacienda/Gallery/Berlin/Reno)
Andy Harris (Havoc)
Rob Fletcher (Herbal Tea Party)
Panel:
Kath McDermott (Flesh/Paradise Factory)
Hewan Clarke (Hacienda/Gallery/Berlin/Reno)
DJ/record seller Russ Marland (Spin Inn/Hacienda/Vinyl Exchange)
Aniff Akinola (Chapter & The Verse, Voodoo Ray)
Supported by Heritage Lottery Fund