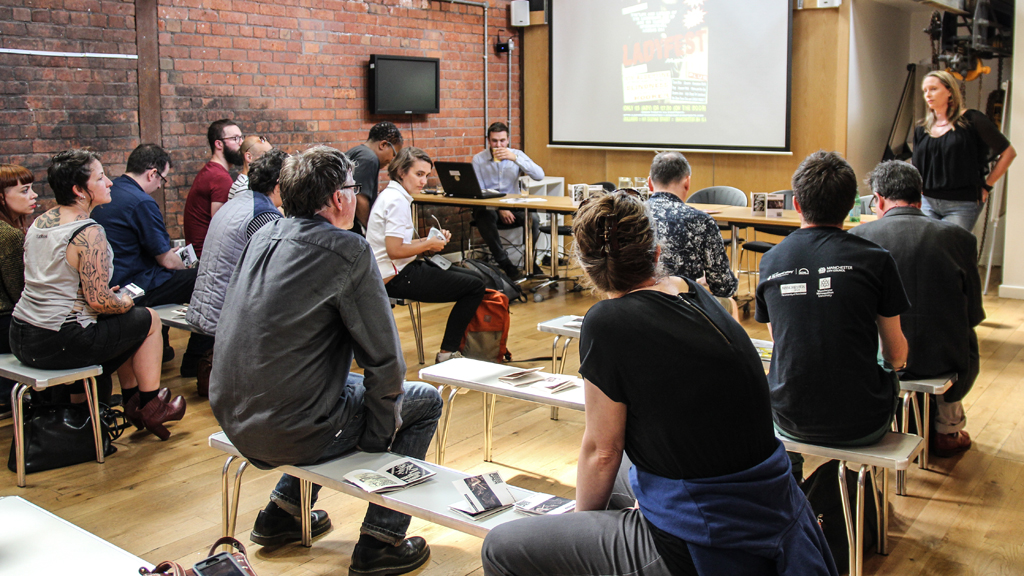 Activist/Archivist event at People's History Museum. Photo: Emma Gibbs
Co-founders
Abigail Ward – Co-founder
Abigail Ward is an award-winning curator, musician, writer and DJ with over fifteen years' experience in the music industry and cultural sector. She specialises in Greater Manchester music history; digital heritage; community archives; music and disability; and LGBT+ history in Manchester. As a DJ she has played across Manchester at venues such as the Refuge, Manchester Art Gallery, HOME and the Deaf Institute. She has a show on NTS radio.
Abigail has curated the following physical exhibitions for MDMArchive:
–
We Are Dynamite!
Northern Carnival Against the Nazis 40th Anniversary exhibition at NIAMOS
–
Queer Noise:
The History of LGBT+ Music and Club Culture in Manchester at People's History Museum
–
Defining Me:
Musical Adventures in Mcr – a major exhibition exploring music & identity at The Lowry
–
Unknown Pleasures:
a Joy Division exhibition at Macclesfield Museum
Selected online exhibitions for MDMArchive:
Queer Noise:
The Hidden History of Manchester's LGBT Music Culture
mdmarchive.co.uk/queernoise
Moss Side Stories
The Hidden History of Moss Side & Hulme Club Culture
mdmarchive.co.uk/mosssidestories
Manchester Academy Memories
Concerts & Club Life at the University of Manchester 1963-2016
mdmarchive.co.uk/manchesteracademymemories

Alison Surtees – Co-founder
Alison is a co-founder of MDMArchive. As a creative producer, consultant and project manager, she has over 25 years' experience, developing talent and projects across diverse art forms. Her current work includes establishment of a new trust, Future's Venture, which will provide funds to artists for radical arts practice. She is a creative collaborator with
In Place of War,
working on international development projects involving cultural spaces; entrepreneurialism; and connecting artists from across the world. She is director of Fuse Art Space (Bradford) and a board member of Ordsall Community Arts (Salford).
She offers the archive support around fundraising; delivers events and exhibitions; and manages filmed archival material.
Alison curated
Suffragette City: Women in Manchester Music
at The Refuge in 2018.
Matthew Norman – Co-founder
Matthew Norman is a freelance filmmaker, artist and documentary photographer. A member of the highly respected Salford-based film collective Soup, Mat has worked with Doves, Elbow, Lamb, Graham Massey of 808 State and many more. He recently visited Syria to document the conflict on behalf of Syria Relief. Mat recently co-ordinated the MDMArchive's 'Defining Me' exhibition at The Lowry, Salford.
Dave Rofe – Co-founder
Renowned Haçienda DJ Dave Rofe now manages Doves, Cherry Ghost and Jimi Goodwin. Dave recently co-ordinated the 'Defining Me' exhibition at The Lowry, Salford, and has contributed greatly to the running of MDMarchive since its inception.
Board
Dave Carter – Co-chair
Dave Carter is currently Honorary Research Fellow at the Centre for Urban Policy Studies (CUPS) at the University of Manchester. He spent 27 years in economic development for Manchester City Council and was Head of the Manchester Digital Development Agency from 2004-14. He has worked on key aspects of the Commonwealth Games (2002), the Manchester International Festival and the Future Everything Festival. He's now involved in research on smart cities, amongst other things.
CP Lee – Co-founder & Co-chair
Cultural historian, author, performer and lecturer Dr CP Lee has written widely about Manchester music. His book 'Shake, Rattle and Rain: popular music making in Manchester 1955-1995' was a source of inspiration to all of the MDMArchive co-founders. CP has since represented the organisation on TV, radio and at two seminars.
Since performing with 1960s Manchester band Greasy Bear, forming the avant garde Alberto y Lost Trios Paranoias, writing a few music books, then for 25 years being a lecturer at the University of Salford, it is CP's solemn quest to never let his passion for ukulele playing get in the way of actually never working.
Aidan O'Rourke – Trustee
Aidan O'Rourke, writer-photographer and tutor, has documented the changes in Manchester since 1996 in photographs and words. He has a strong interest in Manchester music, and was one of the official photographers at the In The City music convention, working closely with Tony Wilson. He co-presents a music radio show on ALL fm. He has contributed to several books on Manchester and produces a weekly feature in the Manchester Evening News with photos and editorial.
Cathy Brooks – Treasurer
Cathy is a charity manager and bass player who moved to Manchester to study, inspired by the city's independent music scene. Her bands over the years have included the Performing Ferrets, Peel favourites Dub Sex and Calvin Party, and currently The Rainkings. Cathy is co-founder and Deputy Director at Radio Regen, a charity supporting the development of community radio stations in Manchester and nationally, and Finance Manager of the Community Media Association.
Sarah Feinstein – Trustee
Sarah was born in Detroit and spent her youth longing for Manchester via vinyl. She has worked in the cultural sector for over seventeen years, both in the USA (Ladyfest, National Gallery of Art, DC Underground Film Festival, Smithsonian Institution) and the UK (Women's Art Library, Pankhurst Heritage Centre Museum, Prisons Memory Archive). Currently, she is a PhD researcher at the Institute of Cultural Practices, University of Manchester.
Drew Ellery – Trustee
Drew Ellery is the Digital Officer of the AIU Race Relations Resource Centre. He has over two years of experience volunteering and collaborating with Manchester Digital Music Archive. In 2017 he completed his year-long archives traineeship based at Archives+. He was later awarded recognition from The National Archives for his work archiving the history of The Mancunian Gay magazine. Currently, he is an MA student at the University of Manchester studying Art Gallery and Museum studies.
Volunteers
Emma Gibbs
Emma is a professional media archivist who has worked in TV and Radio for over twenty years and she has a real passion for preserving all kinds of content so others can find and use it.
Emma is also a photographer and has been photographing bands performing in Manchester, England ever since she was accidentally given a photopass for Faith No More in 1997. She has successfully combined her photography with her day job and regularly takes pictures at the BBC in MediaCity, Salford for various departments based there including 6 Music.
Rod Connolly
Rod is the creator/promoter of Bollox club and digital content producer with expertise in equality politics and protocols. He worked at the Equality & Human Rights Commission as a digital content manager for a number of years. Rod is also a branding strategist with a passion for the community projects.
He is a member of the Queer Alt Manchester network. Rod co-curated the MDMArchive digital exhibition, Manchester Academy Memories.
Jane Donaldson
Jane grew up in Manchester in the 1980s and 90s and has always had a keen interest in music of all types. After moving to live and work abroad for a number of years she has now settled back in South Manchester. Having worked for many years in archives including the John Rylands University Library and the National Fairground and Circus Archive, she brings her skills as a volunteer in digitisation and research. She also enjoys attending and helping at the many events that MDMA have put on over the years.
Joe Watson
Joe started volunteering for Manchester Digital Music Archive in 2015 as part of the University of Manchester's Researcher in Residence scheme, culminating in the Activist/Archivist event at the People's History Museum on 4th June 2016 as part of Manchester Histories Festival. He contributed to the opening event of the DCDC Conference 2016, speaking about the importance of collaboration between archives and researchers. Joe is currently pursuing an ESRC funded PhD at The University of Manchester, looking at underground punk music networks in the North West of England. He sings and plays guitar in Warrington-based punk rock band Hummer.
Supporters
National Lottery Heritage Fund

Irwin Mitchell
Arts Council England
Forever Manchester
University of Manchester Researchers In Residence
Manchester Histories Festival
Louder Than Words Festival
The Lowry
People's History Museum
Somewhere
RNCM