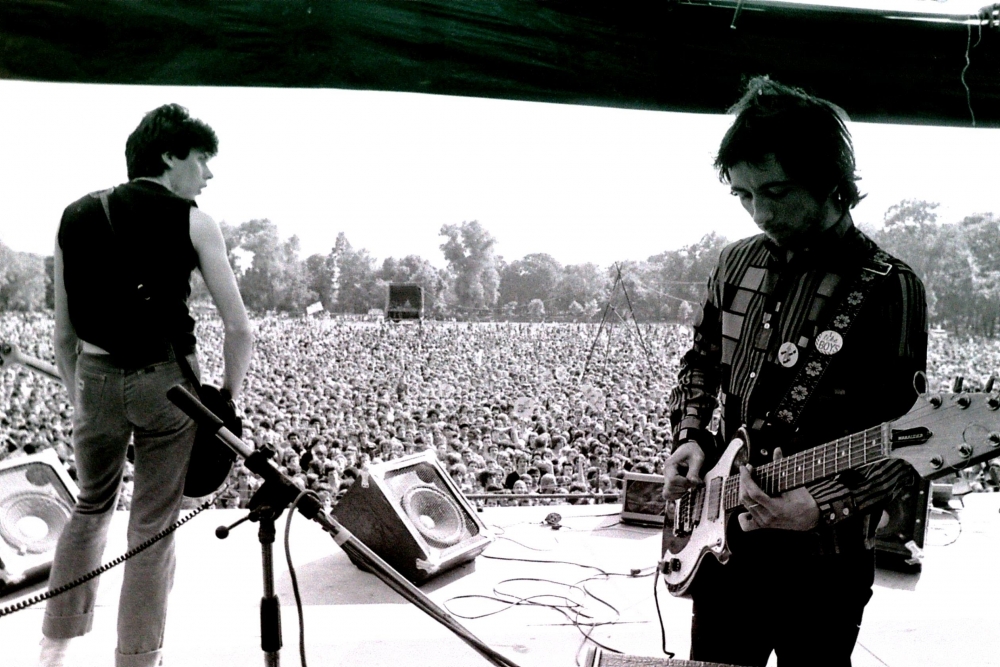 6th December 2018
Pete Shelley 1955-2018
Photo: Buzzcocks at the Northern Carnival 1978 © John Sturrock
We're all so shocked to hear about the death of Pete Shelley. Our thoughts are with his friends and family.
Pete's influence has loomed large over Manchester Digital Music Archive since our inception. Our very first event - the launch of our organisation at Urbis in 2004 - was promoted using an
image from a Buzzcocks flyer
by Linder Sterling.
Our last project celebrated
Buzzcocks at the Northern Carnival Against the Nazis
in Moss Side in 1978. Pete said of that event afterwards, 'This wasn't politics, it was fun. But the best kind of fun is with people, and being with people is politics.'
Pete also featured heavily in our
Queer Noise
exhibition of 2017.
Punk historian and MDMArchive collaborator, Dave Wilkinson wrote this:
Goodbye Pete Shelley. I adore the Buzzcocks. They're so unfairly remembered largely for one (sublime) song, yet Shelley's writing achieved that most difficult of things time and again - deceptive simplicity. Perfect pop allied with nigh-on mystic poetics: "Ooh, nostalgia for an age yet to come." His delightfully wibbly solo material was ahead of the curve of 80s synth- and queer pop - and far more humanistic to boot.Like all the best punks, he was as important for who he was as for his music. A gentle, unassuming working class grammar school boy (who hated school and couldn't flourish under those antiquated conventions of what education should be) from unfashionable Leigh. A teenage gay rights activist and electronic music innovator at Bolton Institute in the pre-punk 1970s, giving the lie to today's noxious assumption that progressive values and cultural experiment are the preserve of the metropolitan middle class. And a figurehead for every 'shy boy'/girl, showing a route to self-expression/understanding that was both earnest and fun, proud of its roots without mythologising them and visually reassuring in a kind of scruffily ordinary, deeply charming way. I couldn't exist without him, couldn't have found a way of being, and I'm sure many feel the same. I'll miss you Pete.
In collaboration with Forever Manchester, Manchester Histories and JackinaBox, MDMArchive live streamed
Pete Shelley's interview with Dave Haslam in June 2018
. On that evening, he was warm, playful and funny as always. We feel privileged to have spent time with him.
Ultimate Homosapien, RIP.